Lets Get Real…
Yall would be on his bandwagon still… if he stayed with the Cavs
He would have won MVP over DRose
Would still be trying to win a championship..
Because people didn't like the decision yall hated him.. but yet most of yall do what buy his merchandise, go to games to root against him but PAY TO WATCH HIM and the HEAT play.
Plus LeBron stays out of the trouble for the most part, takes care of his family and gives yall no reason to dislike him other than when he embarrasses your favorite team. Without the decision how many of yall would find Ring jokes, Hairline jokes ? you wouldn't be cause he plays clean and handles business and enjoys his life..  
ON THE COURT yall have nothing..
OFF THE COURT you make fun of petty things..
Let's Get Real.. REAL LeBron fans stay through lil things and are happy for him because most of his haters admire what he does for a living & would switch lives if offered.. LETS BE REAL !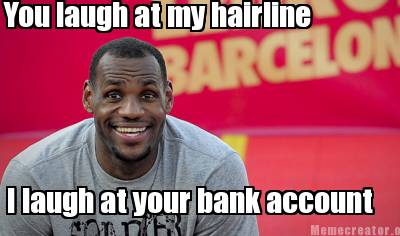 On Kobe
On Derrick Rose
HATERS DON'T PHASE US !